Grader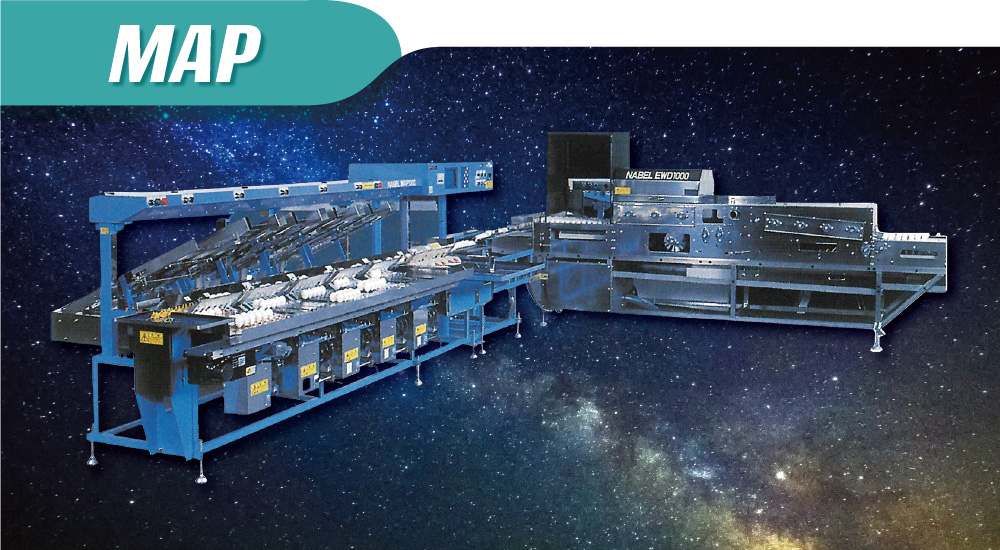 15,000 eggs/hour, Selected by quality
Eggs are needed to be clean in this modern times. Because they are precious eggs, they have to be supplied to customers safely. As hygiene is one of the important points of foods, NABEL installed the egg washing system, which satisfies hygienic standard of Japan, in this mini grader.
Features
High in Quality, Small in Size
Egg friendly technologies, such as corrosion-resistant stainless and supereffective washing style with soft brushes and 50 ℃ hot water, make it possible to supply incomparable secure eggs in the world. It adopted front operation style, which was a change over from the past models. It is unnecessary any more to take a roundabout way to the back side of the machine to change packs or settings. The packing process in semi auto packer is perfectly automated, which used to force operators handle a 1kg heavy lifter with 30 eggs. While being compact, it is equipped with sufficient functions. Mini Auto Packer MAP1000 is gentle not only for operators but also for eggs, and it is the one NABEL recommends with confidence, as it surely meet your demands.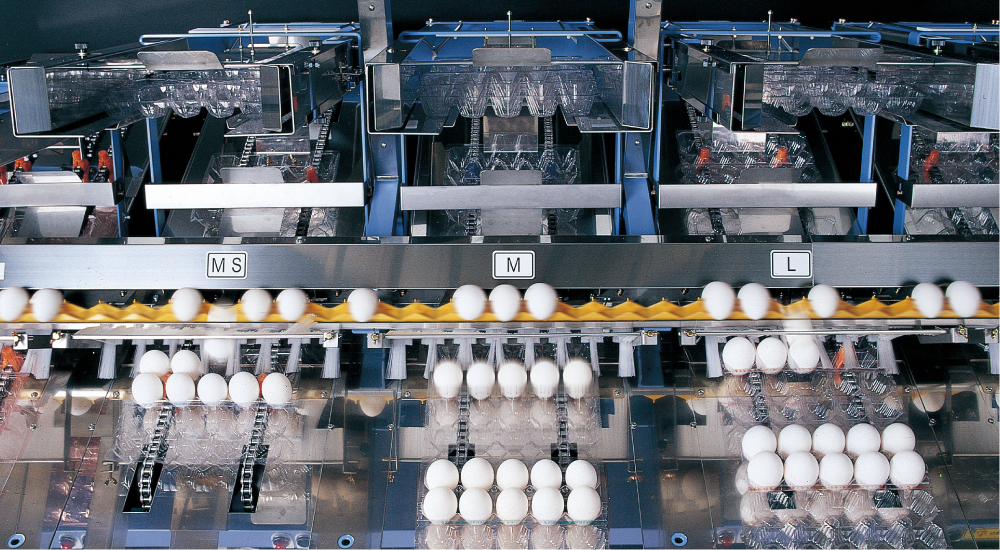 Egg washing and drying system of global standard
It is generally known that washing eggs in hot water bath is better than that with cold shower. In order to clean each egg, NABEL installed the egg washing and drying system in mini auto packer, which satisfies hig hygienic standard of Japan. As a result of equipments such as a washing system with 6 rows, corrosion-resistant stainless, eggs after washing process are free from bacteria. And it is easy to clean up the machine after daily operations. So its clearliness is always secured and relievable. Not satisfied with Anti-bacterial, we head for No-bacterial. The reliability makes the difference.
No more hand lifts nor packing labor; Device enriches efficiency
'Oh, I'm so tired...I want to take a rest.' – Indeed, it is a hard work to suck eggs by a lifter and pack them. NABEL focused on this simple but hard operation, and adopted front operation style first in the world. Eggs are packed in set packages and come straight towards the operator. Plus, it is possible to supply empty packages from the front side. In other words, it is not necessary to take a long way to the back side of the machine for changing packages.
Not only packs for 10 eggs or 6 eggs, but also special packs and paper trays are available as long as they are prepared and set to the machine before operation.
Operators would not feel tired as before, which leads to spare time. Operations with no wasted time enhance efficiency.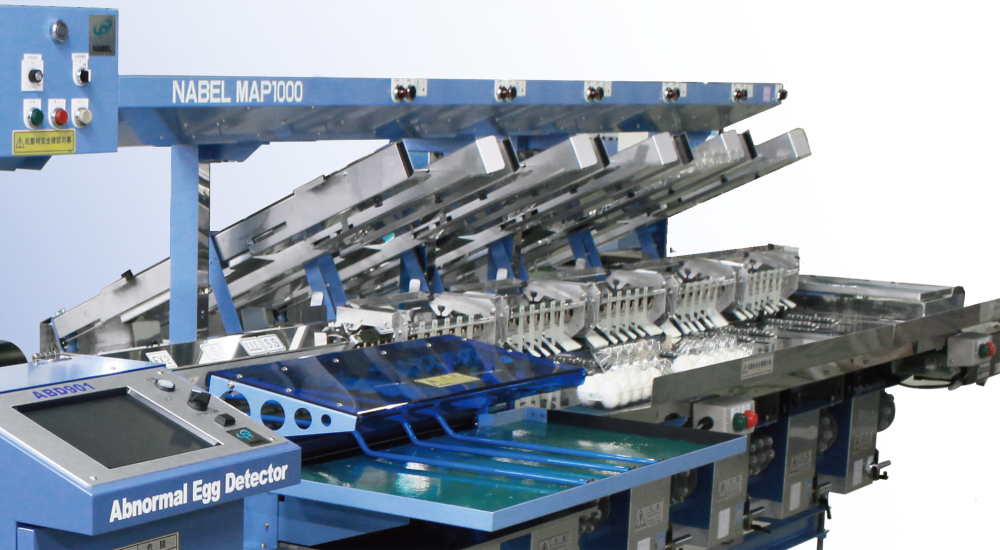 Designed compact and adjustable
Machine takes only 23 meter square. As it is compactly designed, this multifunctional machine occupies a little in space. Harmony of mechanics, electrics and computer technologies completed this mini packer, with emphasis on quality.
Reliable weighing and grading function
The precision of egg weighing is also outstanding. By adopting force balance method, the weigher is correct within less than 0.1g. This is the result of reliable electric weighing technology developed by long experience of NABEL. Accuracy makes reliability and enhance trust.
Simple operation and certain data processing
Key board operation is unnecessary for MAP1000. To change the grading pattern, just push a button and the machine will do the rest. Wasted time on operation is decreased drastically.
Data of production is output in detail. Important data, such as the processed amount and distribution of weight/size of eggs, is printed out at once. These data are useful and utilized for management.
Specifications
Optional Equipment
※Designs and specifications are subject to change without notice.